Acropolis, which  literally means "upper town" or  "a high city" has the most important remains of Pergamon. The hill that acropolis located ise about 300 metres high.
Acropolis, the oldest and directorial centre of Pergamon is was built on the top of a hill very steep, controlling the Kaikos Plain. Due to the position of Acropolis, it's believed that the name of the city "Pergamon" is derived from the words "High Settlement" in Hittite Language.
It can be reached via a path about 300 meters long.
The acropolis of Pergamon has served as a settlement since ancient times. There were series of buildings that accommodated any governmental, religious, social, military and commercial usage.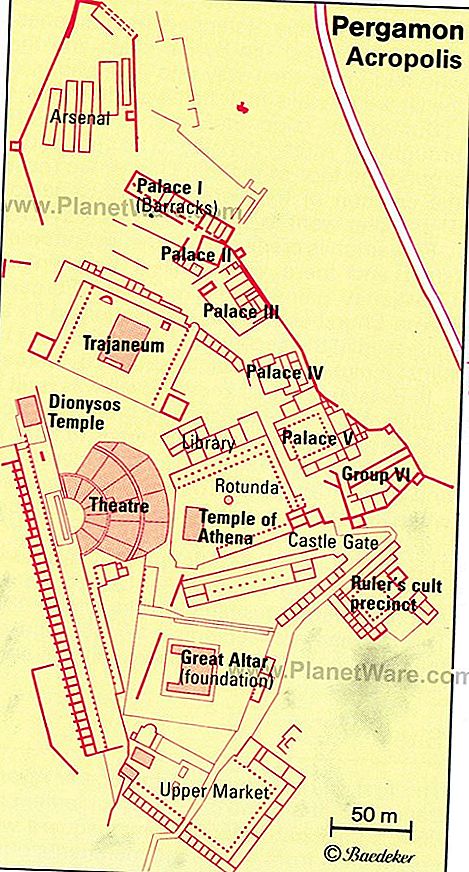 It is divided into two sections:
Upper Acropolis include the Hellenistic Theater, Trajaneum, Atheneum, Sanctuary of Athena and Royal Palaces.
The top of the hill in the Upper Acropolis, accommodates the Palaces (Royal Palaces) of the Kings of Pergamon. The ruins of the Pergamon Kings' palaces is located to the east of the library.
Temple (Altar) of Zeus was built with much care and precision on the terrace beneath them:
Upper Acropolis of Pergamon was also home to one of the steepest theatres in the world:  Pergamon Theatre
In addition, there is a library which was the second most important library in ancient times, after the library in Alexandria: Pergamon Library
Temple (Sanctuary) of Athena in Pergamon is located in the upper section of the buildings.
Temple of Trajan in Pergamon was built on the highest terrace in the acropolis.
On the northern edge of the acropolis The Arsenals were located beyond the palaces and the Temple of Trajan. These five long structures parallel to each other known as "the depot for military supplies".
Upper acropolis was also includes Temple of Dionysos in Pergamon, Turkey.
Lower Acropolis include the Temple of Demeter, a gymnasium, Sanctuary of Hera, House of Attalus, Lower Agora and Gate of Eumenes.
The acropolis of Pergamum can be seen on a day tour from Izmir or you can stay overnight in the nearby town of Bergama.