Temple of Trajan (Trajanium) was built in honor of the Roman Emperor Trajan (Traianus) and was built on the highest terrace in the acropolis. Located on the west side of the Acropolis, Trajanium stands out with its magnificent appearance.
Born in Spain in 53 AD, the Roman Emperor Traianus came from a noble family. In 98 AD, at the age of 45, he became Roman Emperor. In 113, at the age of 60, he embarked on an eastern expedition to Asia Minor. He died in 117 on his way back to Rome, at Cilicia Selinus (today's Gazipasa District of Antalya).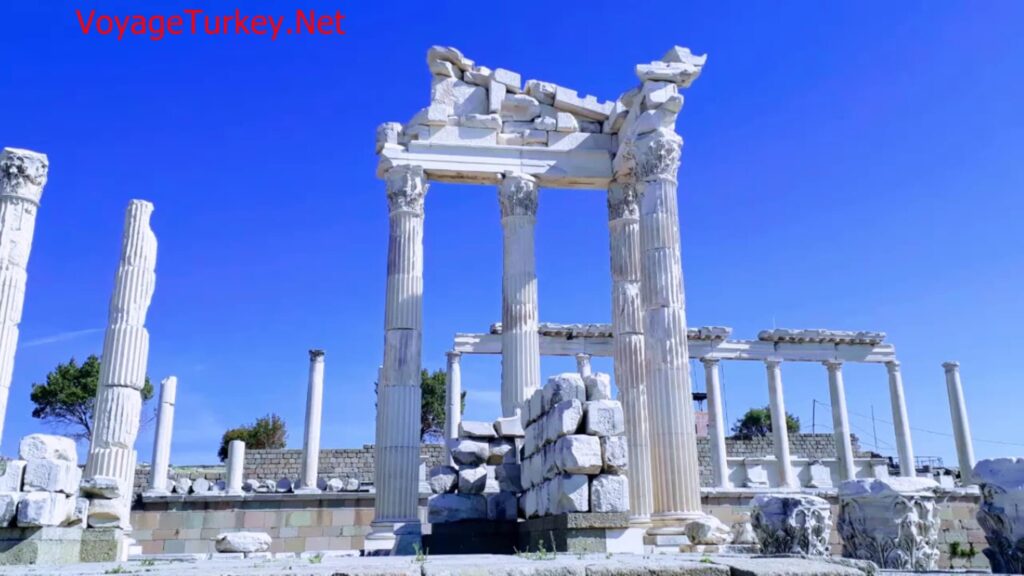 Emperor Hadrianus, who became emperor after Trajan, took the ashes of Trajan to Rome, organized ceremonies for him and deified him. When Hadrian returned to Pergamum in 125 AD, he ordered the construction of a temple in the name of Traianus on the highest terrace of the Acropolis of Pergamum.
The construction of the temple was completed in 129 AD. It is not known whether Emperor Hadrianus, who was known to have visited Ephesus and Miletus at that time, also visited Bergama and participated in the opening of the temple.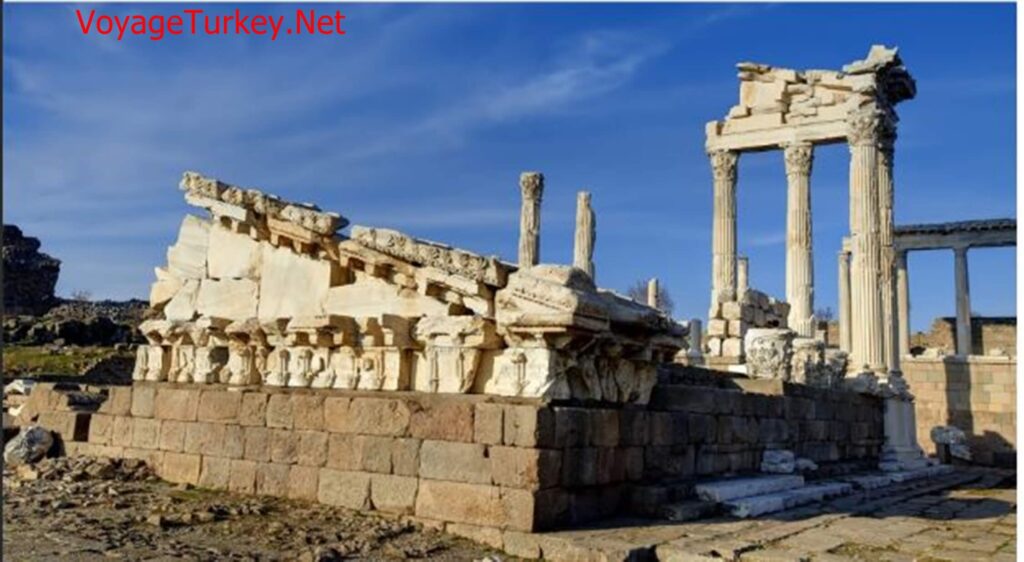 After its completion, the Trajan Temple became the most prominent monument of the fortified hill where the Zeus Altar, the Dionysus Temple and the theater of the citadel used to formalize the landscaping of the hill in earlier periods. It is understood that both emperors were worshiped in the temple. The colossal marble statues inside the temple, now exhibited at the Berlin Museum, belong to these two emperors.

The Temple of Trajanium was built on a 68 m x 58 m terrace at the highest point of the Acropolis. The place chosen for the construction of the temple was first turned into a flat area/terrace with arches and vaults. For this purpose, the foundation of the temple was cut properly and carved up to the bedrock. In this way, five rows of adjacent chambers are formed in three rows. These chambers are covered with vaults. These rooms were transformed into cisterns in the medieval.
On one side of the temple, which was built in Corinthian order, there are support walls built for the terrace. The vaulted arches, which appear as a row of windows, were built on the upper edge of the 23-meter-high wall. Shaped as a Peripteros with 6 x 9 columns, the temple is surrounded by stoas on the other three sides.
The destroyed Trajanium Temple was rebuilt in 1976 by a study by the German Archaeological Institute. The restoration of the Temple was completed in 1990.