General Information About Turkey
Turkey is a republic governed by democracy. It's formal name is Repblic of Turkey. Capital city of Turkey is Ankara.
| | |
| --- | --- |
| Language: | Turkish |
| The difference between GMT: | GMT+3 |
| Domain Extension: | .tr |
| Currency: | Turkish Lira |
Location Of Turkey
Turkey is located between Asia and Europe continents. Turkey is a large peninsula that bridges the continents of Europe and Asia. A large part of Turkey is located in Asia and rest of its located in Europe.
Tourism in Turkey
Turkey boasts of a rich culture that through the centuries has left a lasting foot-print on modern civilization through the centuries. Hattis, Hittites, Phrygians, Urartians, Lycians, Ionians, Persians, Macedonians, Romans, Byzantines, Seljuks and Ottomans have all occupied crucial places in the historical background of Turkey.
There is no doubt, Turkey is one of the world's most popular tourism destinations. Turkey offer breathtaking natural beauties, unique historical and archeological sites, steadily improving hotel and touristic infrastructure, a tradition of Hospitality and competitive prices, to the visitor.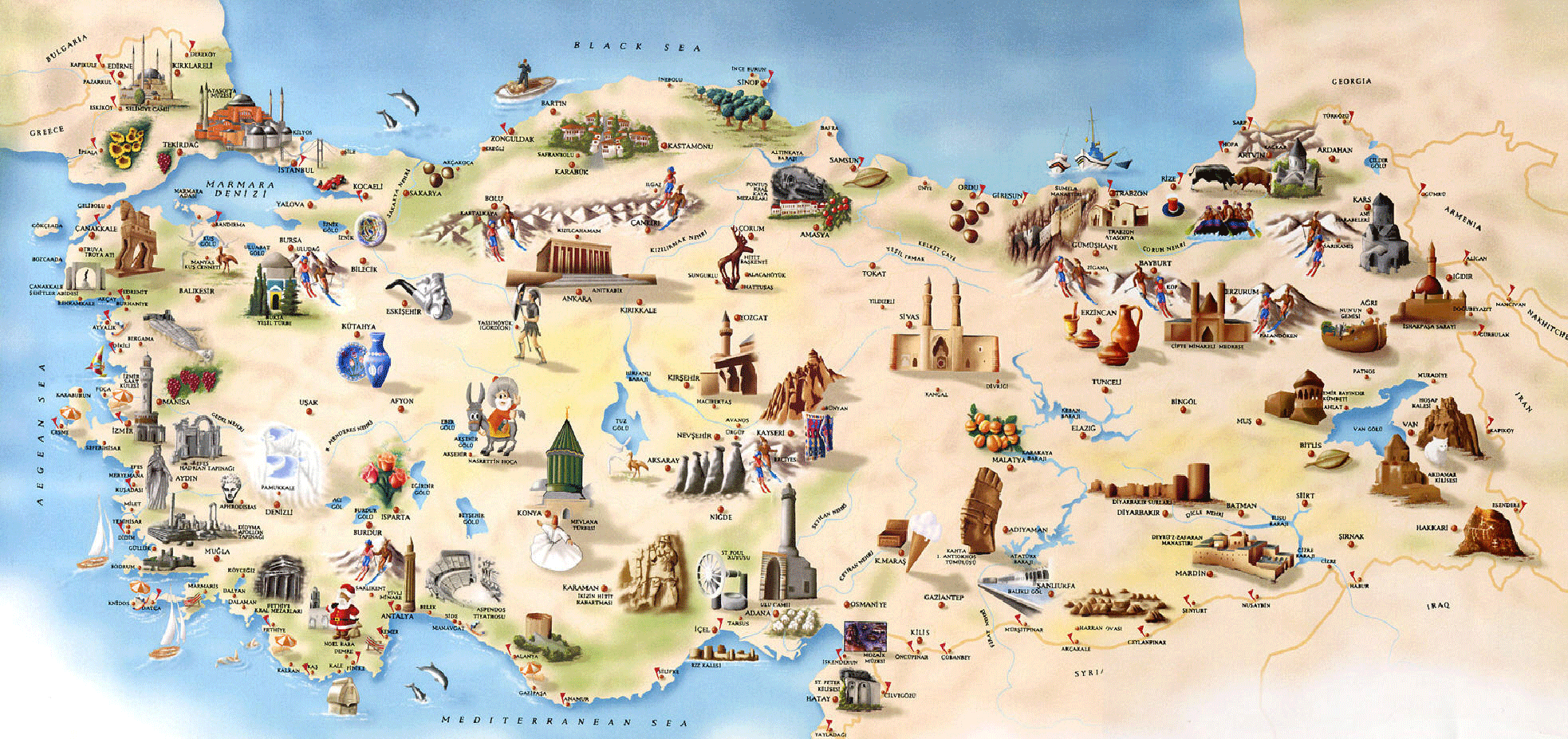 Destinations
For the destinations of Turkey, you should visit this article: Destinaons of Turkey
Internatıonal Airports of Turkey
There are 55 major domestic and international airports in Turkey. Some of them listed below is international airport have direct international flights.
Istanbul (New)Airport, Istanbul
Sabiha Gokcen Airport, Istanbul
Ataturk International Airport, Istanbul
Esenboga Airport, Ankara
Adnan Menderes Airport, Izmir
Antalya International Airport, Antalya
Trabzon Airport, Trabzon
Dalaman Airport, Mugla
Milas Bodrum Airport, Mugla
Climate
The climate in Turkey varies according to the region.
Articles About Turkey