Location
Aegean region having many historical and natural beauty, is located on the western side of the Turkey.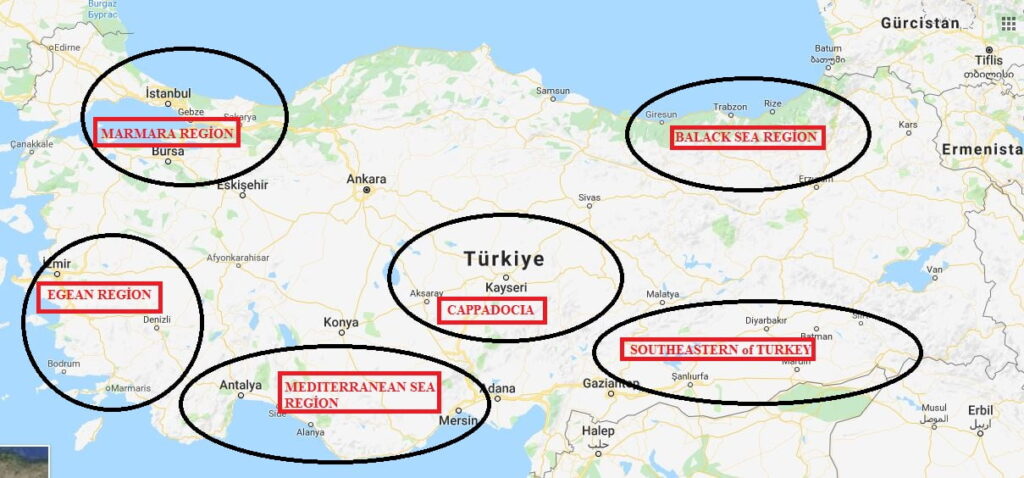 Cities of Egean Region
With it's rich natural and cultural structure,  Aegean Region of Turkey has quite a large tourism potential. Izmir and Mugla, the two of the most important cities in terms of tourism  in Turkey, is located in this region. Manisa also has important beauty in terms of tourism.
Historical Features
This region has been home to many civilizations such as Lydia, Ionian, Ephesus, The Kingdom of Pergamum, Roman Empire, Byzantine Empire and Ottoman Empire for thousands of years. This region, with its accumulation of thousands of years of culture and civilization, has a very important tourist attraction in terms of culture and history tourism. There are many ancient cities in this region.
Sea and Beaches
There are many beautiful beaches in the Aegean region.
In the Aegean Sea, sea water temperatures increase from north to south and the length of time to sea is extended in this direction.
Climate
In the words of Herodotus, the Aegean region, which has the most beautiful skies and the best climate in the world, has a very soft climate. Summers are hot, but winters are mild.
Tourism Varieties
Coastal tourism, cultural tourism, ecological tourism, health tourism, agro tourism and cruise tourism activities are carried out in the Aegean region.
In the Aegean region, the fact that the mountains are stretched out to the sea caused the yachts tourism to become widespread in recent years due to the bays that serve as a natural harbor.
Ulaşım
There are two international airports in the Aegean region: Izmir Adnan Menderes Airport and Bodrum Airport.