Cappadocia, meaning the Land of Beautiful Horses in the Persian language, comprises the provinces of Aksaray, Nevsehir, Nigde, Kayseri, and Kirsehir. It dominates 40 km area in between the districts of Avanos and Urgup located in Nevsehir. Major towns include Uchisar, Avanos, Urgüp, Derinkuyu, Kaymaklı, and Ihlara.
Nevşehir is at the center of Cappadocia, and Ürgüp, situated 20 kilometers to the west, is famous for Saint Theodora (Tagar) Church and Pancarlık Church which has remarkable religious frescoes. 
Most of the historical and natural assets in the region have been included in the UNESCO World Heritage List due to their value.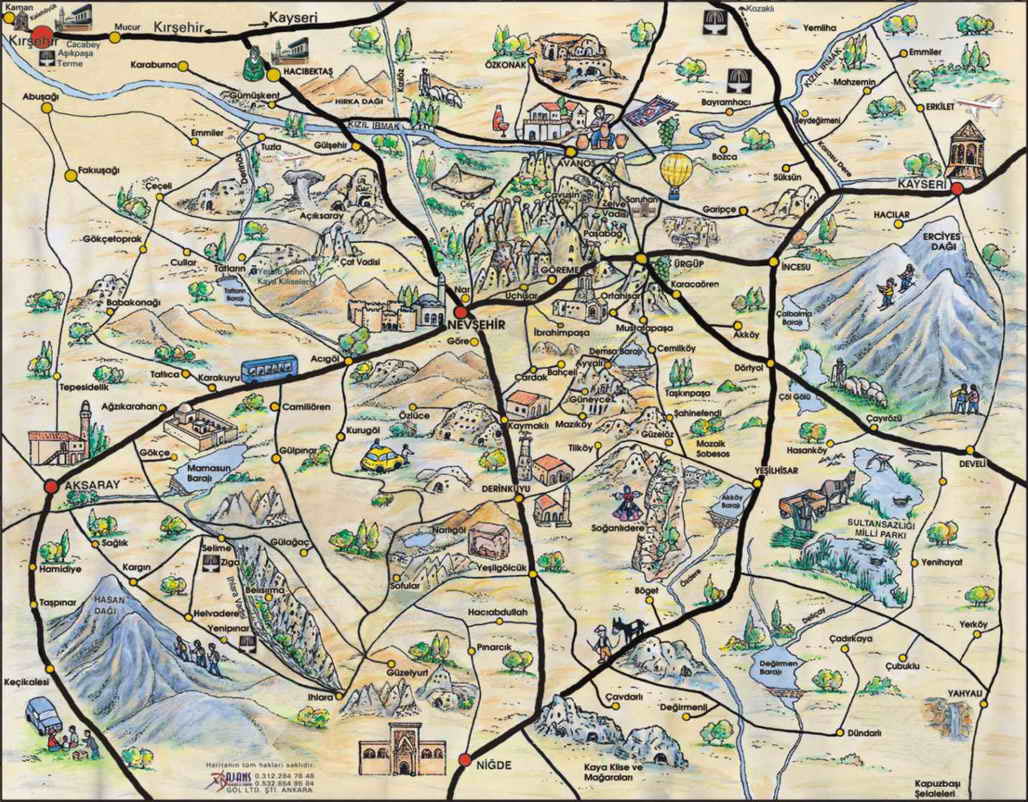 What Are The Cappadocia Fairy Chimneys Made Of?
Cappadocia is made of volcanic ash and dust, hardened into stone which is called tuff, over millions of years. The fantastic landscape and the amazing shapes owe their formation to the special nature of this tuff. It is very soft and erodible and it is mixed with other harder volcanic materials. It has a natural structure that is rarely seen due to the activities of the volcanoes surrounding it millions of years ago.
How Did The Fairy Chimneys Form?
Millions of years ago, the volcanoes of Erciyes, Hasandag, and Melendiz mountains erupted and covered Cappadocia with a layer of tuff. For hundreds of years, the region encountered unprecedented wind and water erosion. When the erosion process, shaping the valleys hit some of these harder materials such as basalt or ignimbrite, it starts to work its way around this harder stuff.
The erosion of the "tuff" (volcanic ash) that is abundant in the area, a relic of the series of many eruptions from 15 million years back, has created an amazing landscape here. The soil was washed away but the rocks able to withstand the erosion stayed behind in bizarre and wonderful formations. Over millennia, this tuff layer was crowded, producing earth formations that, in turn, inspired cave art that has carried the imprint of ancient civilizations to our times. The result is a huge pillar underneath a small cap of harder volcanic rock. These are called "fairy chimneys".
Today, with its surreal, fairytale landscape, Cappadocia is a place that offers astonishing natural beauty. Cappadocia is simply unique and in the world, there is only one place like this.
History of Cappadocia… When Was Cappadocia Built?
T he written history of Cappadocia goes back to the Hittites but it's known that the earliest human settlements in Cappadocia dated to the Paleolithic Period. It has served as an important trading post and bridge between the various lands of the Silk Road throughout its history.
In the Upper Miocene epoch, the volcanoes under the lakes erupted and spouted lava. The lava formed a plateau, a landscape that smaller eruptions constantly altered.
During the Upper Pliocene epoch, the Kızılırmak River, together with lesser streams and lakes, cut deep into the tuff plateau, and the region gradually began to take its present shape. Wind and rainwater flowing down the sides of valleys eroded the tuff structure, and sculpted the formations known as "fairy chimneys".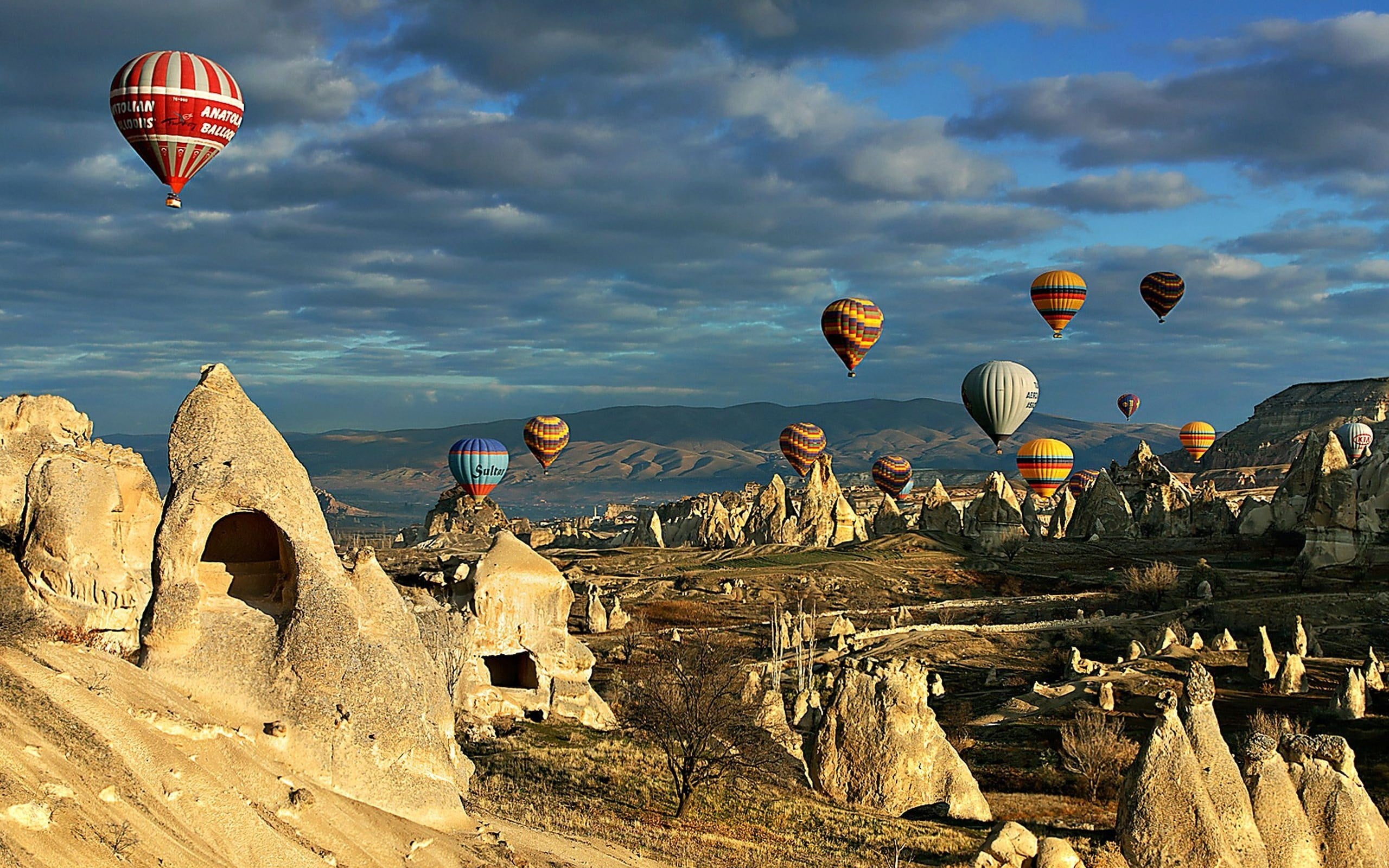 The principal type of "fairy chimney" in Cappadocia is the conical rock structures topped with a hat, either a cone or a mushroom-shaped cap.
The early Hattian settlers were followed by the empires of Hittite, Phrygian, Persian, Roman, Byzantine, Seljuk, and Ottoman, and each left its mark on the enchanting landscape of Cappadocia.
Cappadocia, situated on the principal trading routes of the Silk Road, was a meeting place for different philosophies and religions, each of which left a historical and cultural impression on the region.
What is Cappadocia Known for? Things to Do in Cappadocia
Cappadocia is best known for its fairy chimneys, unique landscape, churches, and houses carved into the rock and underground cities and churches.
Horseback Safari in Cappadocia
"The land of beautiful horses" (ancient name of Cappadocia) can best be seen on the back of its legendary mounts, riding through wild valleys and ancient settlements.
Horseback Safari is a group activity that enables you to enjoy the harmony of the horse and the rider with nature. These riding tours include visiting a lot of cultural or natural beauties: underground cities, rock-hewn byzantıne cave churches, fascinating valleys. However, the route of each tour may be different. Therefore, it is useful to obtain information about the route before purchasing the tour service.
You should know that there may be some areas where you may be required to dismount the horse and walk and then mount the horse again. And some companies limit the rider's weight on the progressive trail up to 90 kg.
Every group has an experienced guide who knows the region thoroughly. The guide will be with you for assistance but you will be expected to handle your horse during the tour. It is not possible to arrange the tours for 1 person, tour companies need a minimum of 2 people.
Tours generally include transportation to/from hotel… Tours generally last 2, 4, or 6 hours (full day), but most of them can last the whole day. However, multi-day tours, with tent or hotel accommodation, are also possible in Cappadocia. Some tour companies offer multi-day rides around Cappadocia and for guests looking for more of a riding adventure.
Tour services are available from May to October. Tour prices are almost the same in all companies. Generally; One-hour tours —> 30 €, 2-hour tours —> 40 €. 
Hot Air Balloon Ride in Cappadocia
Hot Air Balloon Ride in Cappadocia
ATV & Bicycle Touring in Cappadocia, Turkey
Cappadocia, with its underground cities, fairy chimneys, valleys of unmatched beauty, is an amazing track for cycling or ATV enthusiasts.
Thanks to the bike and ATV, you can visit the Cappadocia region, which is spread over a large area, faster and more in touch with nature. You don't need to know how to drive and have a license to drive an ATV.
Cappadocia ATV Tour is done on the paths in the valleys. Tours can be arranged for 1, 2, 3 or 4 hours. There are also agencies that rent ATVs on a half-day or full-day. Tour prices are as follows: One-Hour Tour (140 TL), Two-Hour Tour (180 TL), Three-Hour Tour (240 TL), Four-Hour Tour (280 TL)
For tourists who want to do sports and tour as they wish, renting bicycles or participating in bicycle tours offers unique opportunities. In this way, it is possible to travel around many places throughout the day.
If you want to visit Cappadocia by bike, you can take part in bicycle tours or rent a bike.
Bicycle rental is an easily accessible method. You can rent as long as you want. However, if you do not know the area well and you need a guide, it is more appropriate to participate in bicycle tours.
Tours are organized in two ways. Some tours are accompanied by a tour guide. Some tour is also available on a self-guided basis- fully vehicle supported but without a guide- so you can go at your own pace and eat in the restaurants you choose.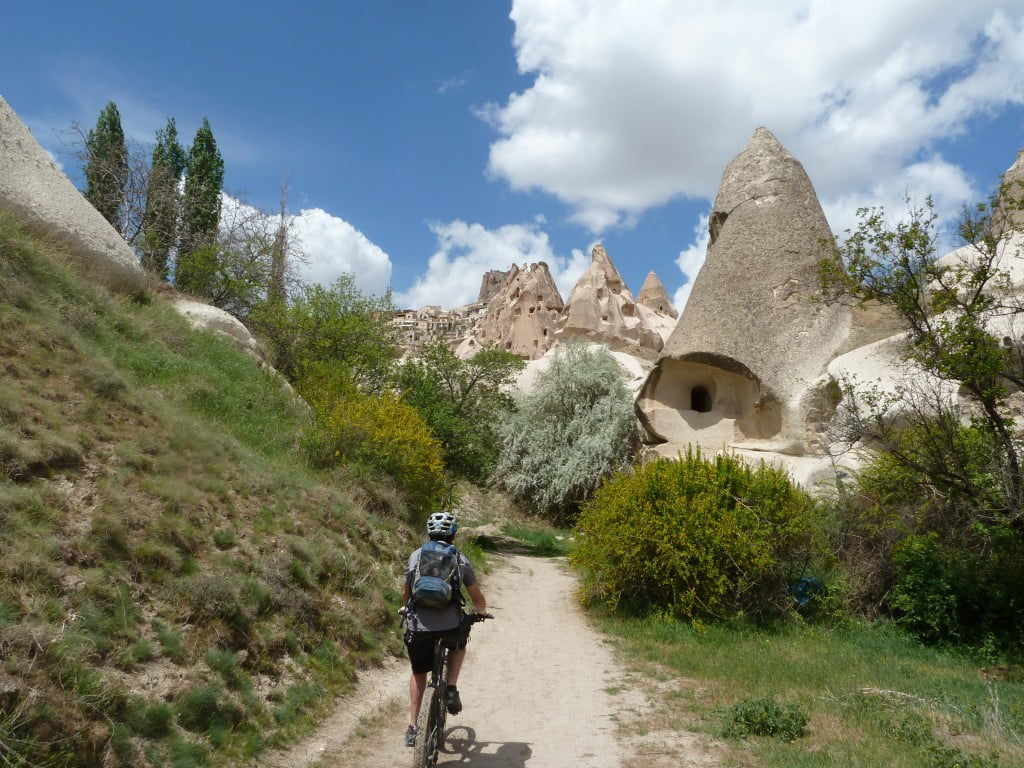 Trekking in Cappadocia
Historical Places and Places to See of Cappadocia
Subterranean Cities and Churches in Cappadocia
How Many Days Do You Need İn Cappadocia? How Long To Stay İn Cappadocia?
Usually, three days will be enough for a visit to Cappadocia. During this time you can go on a hot air balloon ride, visit all of the big sites, underground cities in this region, do a little hiking, explore some caves,
When Should I Go To Cappadocia? 
Cappadocia region is extremely hot in the summer months and the winter months are also extremely cold, so the best season for visiting Cappadocia is the spring and autumn months. As the months of April and November are a bit more rainy and windy, the most suitable months to visit Cappadocia are May, June, September, and October.
Handicraft of Cappadocia
Onyx-Stone Tunning
One of the most popular products for tourists in Cappadocia is jewelry made of onyx stone. Many souvenirs such as ashtrays, candle holders, candlesticks, vases, keyrings, and chess sets are produced in Cappadocia. It is possible to find high-quality souvenirs made of onyx stone in every city in the region.
The onyx stone is usually a black stone, but there are also onyx stones that are brown, pink, red and green.
Onyx stone, also called veined agate stone, is a kind of quartz element. The colors of the layers are highly variable and can be in many different colors, from white to black.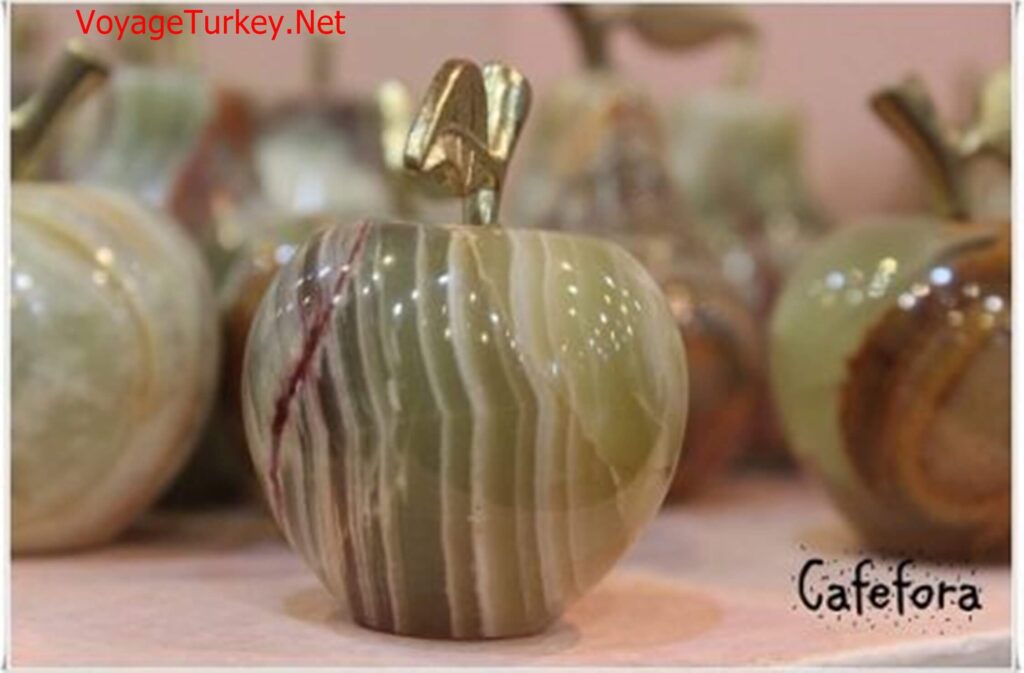 Although it resembles marble in external appearance, it differs from marble in terms of light transmission. The onyx stone is translucent and transmits light, while the marble is completely impermeable. Onyx stone is found in much deeper layers while marble is obtained from layers close to the earth.
The value of the onyx stone varies depending on its color. The black ones are the least valuable ones. After black color comes white, gray, brown, and yellow in order of value. The most valuable onyx stones are the green ones.
Carpet and Kilim Weaving in Cappadocia
In Cappadocia, weaving, continuing since the Byzantine Period, is more common in Ürgüp, Avanos, and Taşpınar. In Avanos, the line pattern Kilim is also woven. Seljuk patterns are dominant in ancient carpets woven with root dyes. However, at present, the patterns from surrounding regions are also woven.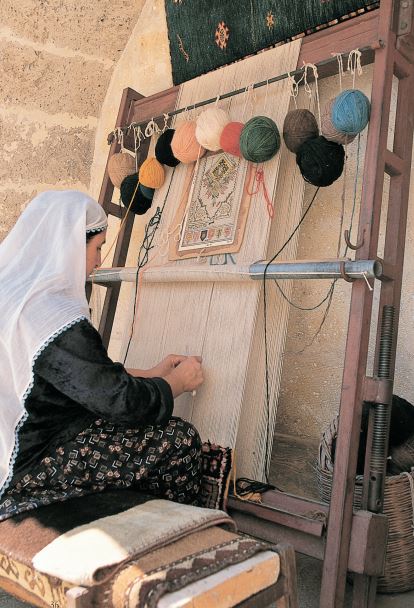 The numerous carpet shops display and supply local carpets as well as carpets from other regions. Here you can find almost any type of Turkish carpet.
Pottery in Cappadocia
One of the most beautiful tourist attractions in Cappadocia is to experience pottery making. The Avanos District of Nevşehir Province in the Cappadocia region is famous for its pottery. The most famous terracotta ceramics producer in Cappadocia is Avanos: Pottery in Cappadocia
What to Eat and Drink in Cappadocia, Turkey
Cappadocia is famous for its vineyards and the wines made from these vineyards dating back to the Hittites. 
Wiyanawanda: Wine of Urgup, Cappadocia, Turkey
Cappadocia was one of the first wine-producing areas. It is known that grapes were grown and wine was produced in this region since 2000 BC. Wine-producing began seriously in Asia Minor at around 2000 BC during the Hittite era. Considering that Cappadocia is adjacent to Mesopotamia, one of the first places where wine is produced, it is better understood how old the wine production was.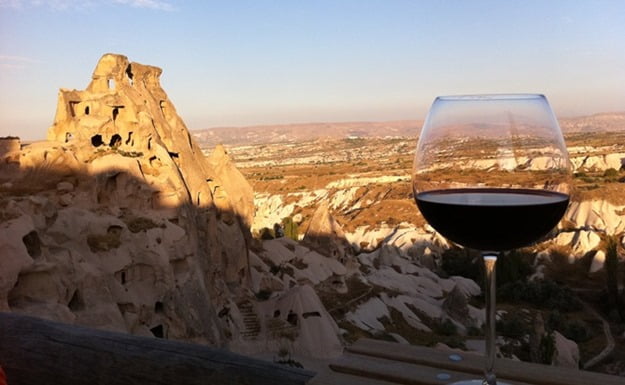 The Hittites created wines classifications and began exporting wine to countries of the Assyrian and Sumerian empires. It is understood from the historical finds uncovered in this region that the wine was called "wiyana" and that Anatolia was called "wiyanawanda" in the sense of wine country during the Hittites.
Why Wine and Grapes are so Common and Famous in Cappadocia?
The reason why grape cultivation and wine production in Cappadocia is so widespread and fertile is due to the tuffaceous volcanic soil specific to the region. This tuffaceous soil formed by the crushing of the lava sprayed by the volcanic mountains provides the vines with high-quality grapes and does not allow the vine lice, the number one enemy of the vines, to survive.
In addition, artificial caves carved from the rocks in the region have created a suitable climate for stocking both grapes and wine. Keeping the heat constant and cool in summer and winter, these caves offer the ideal heat for use as a cellar. The constant temperature also ensures that the natural aroma of the wine is preserved during fermentation.
Buy Wines and Taste Wine in Wine House in Ürgüp
Today, wine production is widespread in the Ürgüp district of Nevşehir. It is possible to buy wines produced in the region or to taste wine in wine houses. You can find various different grape varietals in Cappadocia, the best-known are Kalecik Karası, Öküzgözü, Boğazkere, Narince and Emir. Some of the local wines are produced using modem techniques, while there are still some locals using age-old traditional production methods.
If you want to taste local wines and enjoy the night, we recommend you to visit one of the wine houses. At the famous wine houses of Ürgüp, local wines are served to visitors in authentic terracotta decanters and ceramic goblets.
Wine Tasting Tips in Cappadocia
When tasting wine, it is useful to note:
To feel the stimuli such as smell and taste more sharply, you need to taste wine when you are hungry, where your tasting senses are the most powerful.
First, taste the wines made from soft flavored grapes. Leave the wines made from hard flavored grapes to the end.
Make sure that the grapes in which the wine is produced carry the scent and that there are no odors such as vinegar, cooked cabbage, and sulfur.
When tasting wine, after two glasses you change the taste perception of your palate and perceive them as if they were all the same. So start by tasting the two products you are most curious about. Do not try more than two.