Most of the travel agencies in Cappadocia organize trekking activities in the region. If you contact with one of them, either as a group or an individual you can participate in one of the activities.
There are many valleys in Cappadocia filled with these fairy chimneys and other interesting rock formations. While it sure is interesting to look at them from the side of the road and take pictures, it is totally another thing to be able to walk into the valleys and walk amongst these magnificent natural monuments.
Furthermore, the softness of the tuff made it possible for ancient people to carve houses and even cities for themselves in these beautiful rocks. Mainly visible today are the ruins and remains from the early Christian period. The Christian period started here as early as 6O A.D. when St. Paul visited the south of the area on his way to Tarsus. While you are walking in the valleys of Cappadocia you will encounter many of these churches and monasteries and their pigeon lofts, many times decorated with lovely wall paintings.
If you are in Cappadocia in spring, another bonus for walkers is the rich flora. Early spring will bring endemic irises, (iris galatica and iris caucasica) and crocuses. A little later, all sorts of spring flowers, poppies, wild roses, geraniums, linums, muscaris.
In early summer the top of Bozdag is a great place to look for flowers. In summer you should prefer the valleys with small streams such as gomeda valley or Ihlara valley. You can find the endemic yellow allium nevsehirense after July.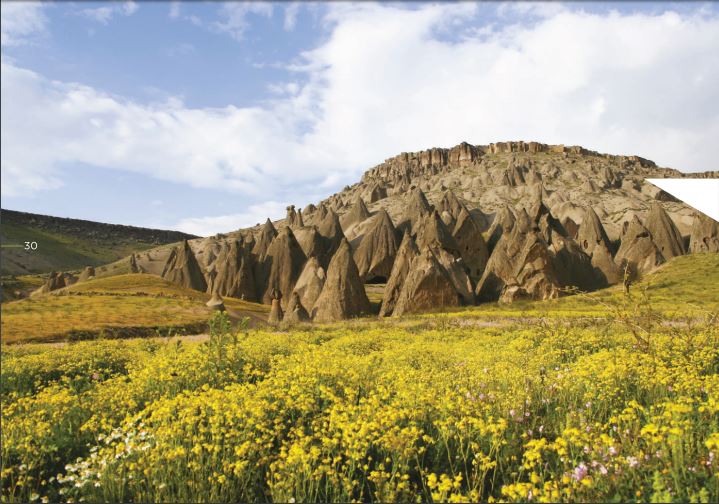 Wildlife in and around Cappadocia is not extraordinary but worth looking at. Foxes, squirrels, ground squirrels (susliks), and rabbits are the most common mammals you will encounter. There are some nice and rare birds you can see here. Egyptian vulture, golden oriole, Anatolian nuthatch, rufous bush robin are some of them.
Many of the more common birds such as larks, hoopoes, owls, warblers, bee eaters etc can also be observed. Also, many butterfly species from swallowtails to different blues are present for the butterfly enthusiast.
Trekking Route in Cappadocia
There are countless trekking routes in Cappadocia. The travel agencies can propose you different choices due to your request. Tourist groups generally prefer Cappadocia valleys for trekking.